How to Change a Gmail Password or Reset Your Google Password.
Change or reset your Gmail/Google Account password in seconds. You may want to change your Gmail password, if you suspect that it it has been compromised or if you believe it is too easy to guess/not secure enough.
Similarly, a reset of your Gmail password may be necessary, if you have forgooten your Google account password. This is how you do it.
How to Change your Gmail Password.
1. Open Gmail in any internet browser and sign in.
2  Click the Gear tab (This is the small gear image in the top right hand corner).


3. Click on "Settings".
4. Click on "Accounts and Import".
5. Click on "Change password".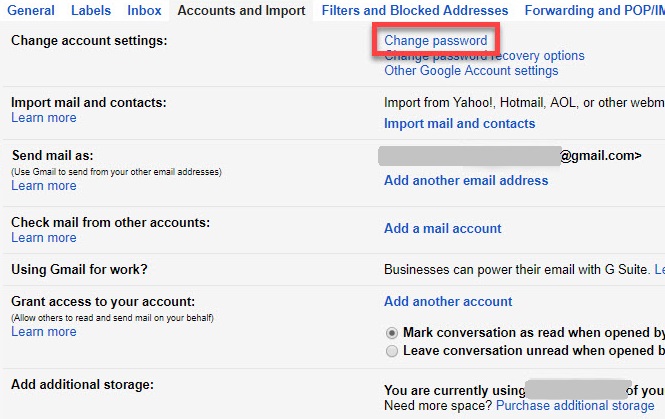 6. Verify your current password.
7. Type in a new password.
8. Type the new password again to confirm.
9. Click on "Change Password".
Please note, that you cannot change your Gmail password from your mobile phone within the Gmail app.
How to Reset your Gmail Password.
This is how you reset or recover a forgotten Gmail/Google Account password.
Go to http://www.gmail.com and click "sign In". If your email username or phone number does not automatically appear, then type it into the field and click on "NEXT".
Click on "Forgot Password?".
Enter the last password that you remember and click on "Next". If you have forgotten all your previous passwords, then click on "Try Another Way".You will be asked to have a verification code sent the phone number associated with your Google account, or have a code sent to your recovery email address. Continue to have the code sent to you.
Open the email or text message from Google
Enter the verification code from the message in the verification code field.
If successful, enter a new password and confirm it.
Click on "Change password".
Click on "ACCEPT". You have now reset your password and now sign into Gmail with your new password.
Please note that if you could not remember a previous password or you could not receive a message at the designated mobile phone number, or recovery email, the system will ask you a series of questions to verify your identity. It will ask you to "Briefly tell us why you can't access your account." Enter your reason in details, for example, you have forgotten your password, or you think your email has been hacked, and click on Submit. Google will get back to you in 3-5 business days.
It is advisable to submit the account/password recovery from the SAME device or computer location/IP address that you normally use to access your account.
For more on the Google Account Recovery process, please see our Gmail Recovery page.
If you continue to have problems, then state your issue in the comment section.
Image: © Google.