GoDaddy Email Login.
How do I sign in to my Godaddy Email and Workspace account? Logging in usually a straight forward process, but should you have problems, then we are here to help.
Follow our login guide step by step, and you will be logging in in seconds.
About Godaddy Email.
Founded in 1997, GoDaddy is a web hosting company and domain registrar, which allows customers to purchase web domains and upload websites onto its servers. The business, which is based in Scottsdale, Arizona, is recognised as the largest domain registrar in the world, with in excess of 15 million customers globally
GoDaddy Email is a webmail offering from the company, which is offered to customers with an existing GoDaddy account. A key advantage of this service over other email services on the internet is the ability for customers to register an email address connected to their own web domain, which is especially popular with small businesses.
Goddady Webmail Sign Up.
How Do I Sign Up For a GoDaddy Email Account?
The GoDaddy email sign up process requires you to already have an active GoDaddy account. Assuming this is the case, log in to your account as normal and then click on the 'Workspace Email' option. From there, find the account you wish to use and click on the 'Manage' option. Then select 'Create' at the top of the email list.
Next, you will need to insert the email address you wish to create, e.g. [email protected] and then choose a password to be associated with that account. The password cannot contain any special characters, such as %, &, $, or * and you will need to enter the password twice, with both entries matching exactly.
Once this is done, click on 'Create'. Assuming the GoDaddy email sign up was successful, you should see a message saying "Congratulations!" and you will subsequently receive a confirmation email, which will also contain links to help you set up compatible email client software on your desktop or mobile phone.
If you want to register additional email addresses with the same domain, you can do so by following the exact same procedure again. The amount of email addresses you are permitted to create will depend on the specific GoDaddy service you originally registered for. It can also take up to 90 minutes for a new account to become active.
Godaddy Webmail Login.
How Do I Log In to My GoDaddy Email Account?
Once an email account has been created, you can access it through the webmail portal at https://email.godaddy.com/ . On that page, you will see a webmail sign in form on the right hand side. Enter your email address and password in the relevant fields and press 'Enter' or click on the 'Sign In' button.
You need to enter your full email address into the email field, including the domain after the '@' symbol. Moreover, your password is case sensitive, so you should take extra care while typing it, ensure you use upper and lower case letters in the right place, and double check that CAPS LOCK is turned off on your keyboard.
The GoDaddy email login process also has a built in password recovery system, which can be used in the event that you forget your password, or find yourself locked out of your account. To access this, go to the login page as usual, and then click on the 'I Forgot' link, which is situated next to the word 'Password'.
Once there, simply follow the instructions on screen to reset your password and regain account access.
Godaddy Workspace Login.
How do I sign in to Godaddy Workspace?
Godaddy Workspace is simply another name for the Godaddy free email service.
To sign in to Godaddy Workspace Email, visit the link above, or use the alternative login page at https://sso.secureserver.net/?realm=pass and enter your Godaddy Workspace password and Username.
Godaddy Office 365 Login.
Office 365 from GoDaddy is a collection of software tools that Microsoft® provides you through GoDaddy. Plans include email, calendar, Microsoft Office applications, and more and costs from 7.99$ per user.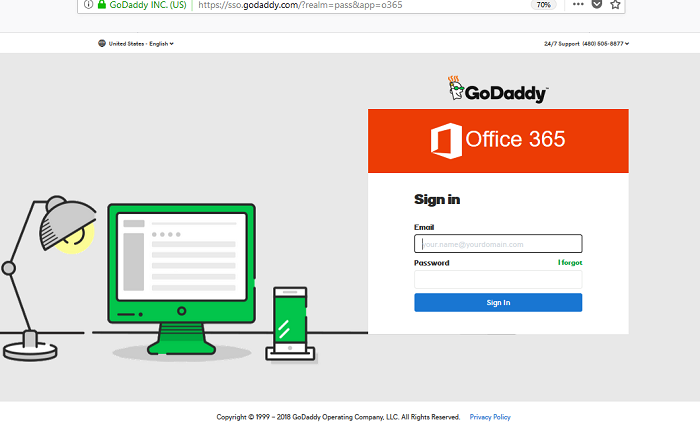 Godaddy.com offers a separate login page for Office 365 users, and can be found here.
Godaddy Email Quick Links.
How do I log in to my Godaddy email account?
Answer: Visit https://email.godaddy.com/ and enter your Godaddy password and Username.
How do I log in to Godaddy email account for my mobile phone?
Answer: Go to the Godaddy Mobile Login page (mobile-optimized) and enter ypur login credentials.
How do I sign in to Godaddy Workspace (Webmail)?
Answer: If the links above are not working for you, try https://sso.secureserver.net/?realm=pass and enter your Godaddy Workspace password and Username.
Where can I find the Godaddy Outlook 365 Email Login page?
Godaddy has a separate login page for Outlook 365 users, here.
How do I change my Godaddy Email Password?
Answer:
Log in to your Workspace Email account and click on the email address you want to edit.
In the Change password box, enter the new password.
In the Confirm Password box, re-enter your new password.
Click Save.
How do I set Godady Workspace Email on my Android phone?
Open the Mail app.
If you already have another email account set up, then press Menu and tap Accounts.
Press Menu again, then tap Add account.
Type your Email address + Password, click Next.
Tap IMAP.
Enter email settings for the in-coming server:

IMAP for Incoming mail server
Username
Enter your complete email address.
Password
Enter your email password.
IMAP server
imap.secureserver.net
Port
993
Security type
SSL

Enter settings for the out-going server:


SMTP for Outgoing mail server
SMTP server
smtpout.secureserver.net
Port
465
Security type
SSL

Choose Require sign-in and check your Username (full email address) and Password are correct.
Tap Next.
Tap Next again. Name your account and enter the name that you want to display.
Tap Done.